Research in the Department of Chemistry and Biochemistry
Please see the Faculty Directory for more information on each faculty member's research focus and current publications.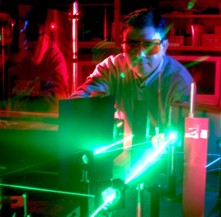 Analytical Chemistry at SDSU
The Analytical Chemistry Group at SDSU is led by faculty members with expertise in each of five major areas of analytical instrumentation and methodology: mass spectrometry (Erica Forsberg), magnetic resonance (Greg Holland), separations (Chris Harrison), electrochemistry (Diane Smith), and laser spectroscopy (William Tong).
These groups have a diverse range of interests coupled with these specialties:
Apply to graduate school at SDSU!
---