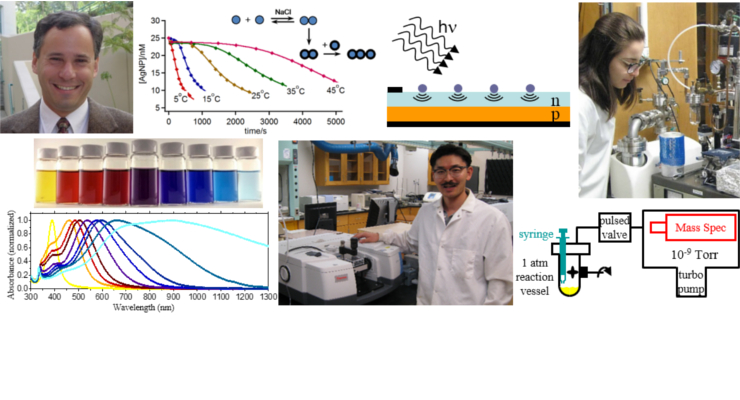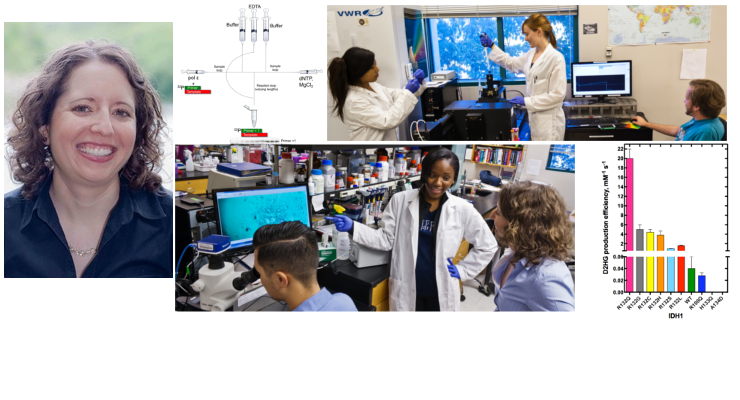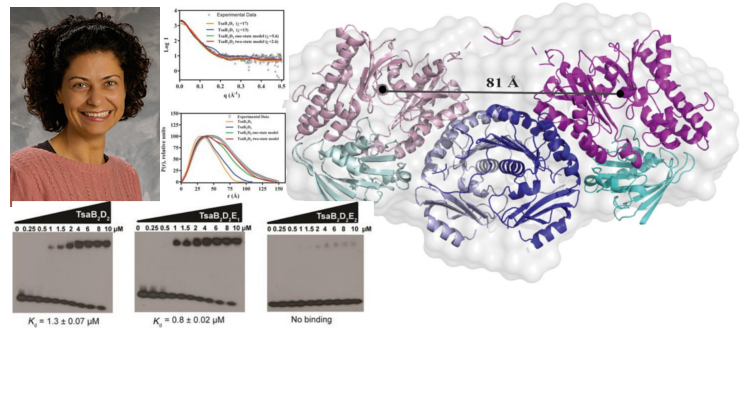 Nanochemistry

Prof. David Pullman's lab studies the photophysics of nanoparticles.

Biochemical kinetics

Prof. Christal Sohl studies the molecular mechanisms underlying human disease.

Nucleic acid structure and modification

Prof. Swairjo has a new paper on the biosynthesis of an important modified tRNA nucleoside.

NMR of novel materials

Prof. Greg Holland was recently awarded a Kavli Fellowship for his work.
Welcome
The Department of Chemistry and Biochemistry at San Diego State University is the flagship chemical education and research program in the California State University system. Learn more »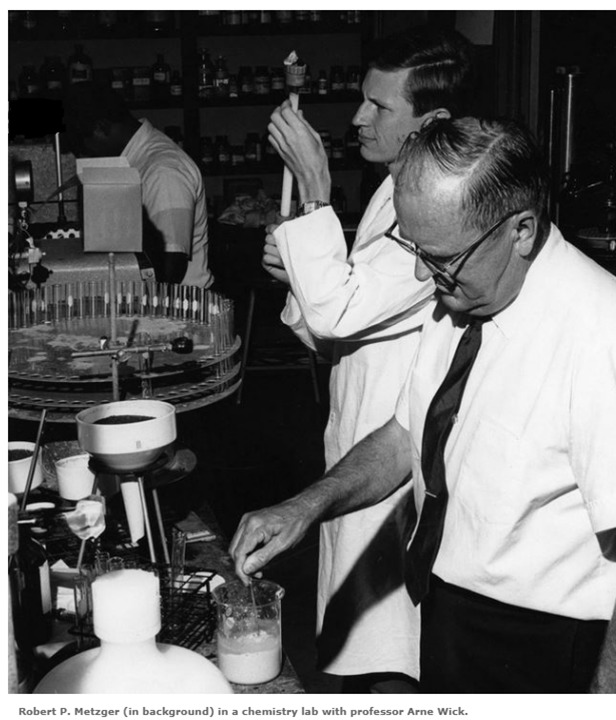 Prof. Arne Wick
with grad student
Robert Metzger
, circa 1968.
Announcements
See the prominent role of the Chemistry Department in the history of research at SDSU with lead roles by Profs. Ambrose Nichols and Robert Metzger. Learn more about the Department's history.
Madison Kennedy, in Prof. Christal Sohl's research group, was one of ten outstanding presenters at this year's Student research Symposium, and will be representing SDSU at the state-wide research symposium in May. Ms. Kennedy is also a recipient of an NSF Graduate Research Fellowship, and one of the College of Sciences Outstanding Graduates of 2018! Many congratulations!
Chemistry Professor Chris Harrison was recently recognized by the SDSU Faculty Senate for exellence in teaching in the College of Sciences. The Department congratulates this outstanding educator!
Upcoming Events
| | |
| --- | --- |
| Aug 24 | Dept. Seminar – Lance Elliott, SDSU EH&S, GMCS-301, 4:00 PM |
| Aug 31 | Dept. Seminar – Prof. Kathie Seley-Radtke, University of Maryland, Baltimore County, GMCS-301, 4:00 PM |
| Sep 18 | Dept. Seminar – Prof. Kim Janda, The Scripps Research Institute, GMCS-301, 4:00 PM |
| Sep 28 | Dept. Seminar – Prof. Ulrich Muller , University of California San Diego, GMCS-301, 4:00 PM |
| Oct 12 | Dept. Seminar – Prof. Filipp Furche, Univesity of California, Irvine, GMCS-301, 4:00 PM |
| Oct 19 | Dept. Seminar – Prof. Michael Groves, California State University, Fullerton, GMCS-301, 4:00 PM |
Department Contacts
Department Chair: William G. Tong
Undergraduate Advisor: David Pullman
Graduate Advisor: Thomas Cole
Graduate Admissions: Douglas Grotjahn
Faculty and Advisor Office Hours
Follow us on Facebook
Thank you!
Recent donors to SDSU Chemistry & Biochemistry
Mr. Jay Breaux
Richard L. Jenkins, Ph.D.
BlueDoor LLC
---
Main Office: GMCS 209 • 5500 Campanile Drive • San Diego, CA 92182-1030 (U.S.A.) • Phone: (619) 594-5595 • Fax: (619) 594-4634
---