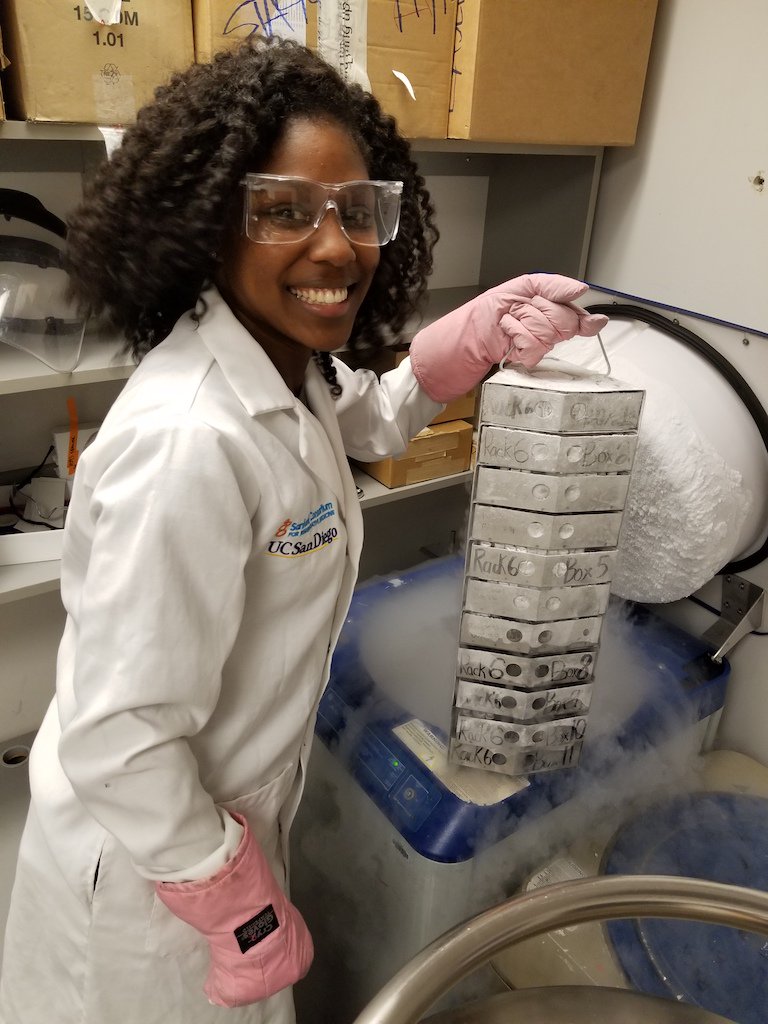 The Dr. Joi Weeks Scholarship for African American Chemists
The SDSU Department of Chemistry faculty elected to honor the memory of Dr. Joi Weeks by establishing a scholarship to financially empower African American chemistry students destined to make this world a better place. Within a year, donations by faculty, staff, friends, and alumni of the department, and by Dr. Weeks' family allowed us to offer the first scholarship.
How to make a tax-deductible donation:
Donate online:
Donate online at http://campaign.sdsu.edu/JoiWeeks
Or by mail:
Make check payable to The Campanile Foundation, add "Joi Weeks Scholarship" as a note, and mail to:
The Campanile Foundation
Attn: Gift Administration
5500 Campanile Drive
San Diego, CA 92182-1968
In memory of Dr. Joi Weeks
Joi Weeks defended her Ph.D. dissertation in May 2020, based on her research carried out under the supervision of Prof. Christal Sohl. Dr. Weeks was diagnosed with breast cancer two months later. She ultimately succumbed to complications related to the disease on Sept. 14, 2020. Joi's scientific curiosity had drawn her to follow a challenging path, but ultimately allowed her to claim expertise in cancer immunology, cancer biology, genetics, developmental biology, chemistry, and biochemistry. Joi's keen intellect was matched with a true passion for science, incredible work ethic, a persistent drive for success, a truly extraordinary kind, empathetic, and resilient demeanor, and a quickness to smile and laugh. As a Black woman in science, she took seriously her role as an inspiration for younger BIPOC scientists, while overcoming her own experiences of implicit and explicit questioning of her own belonging in science. Dr. Joi Weeks inspired us all to be better scientists, better mentors, better teachers, and better humans. Please read the Sohl Lab's remembrance here to learn more about Joi.