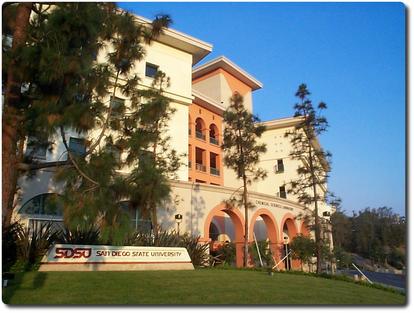 Undergraduate Study in Chemistry and Biochemistry at SDSU
Degree Programs
The Department of Chemistry and Biochemistry at San Diego State University is proud to have offered the Bachelor of Science degree, accredited by the American Chemical Society (ACS), to our most qualified undergraduates continuously since 1949. This rigorous program is held to the highest standards by the ACS to ensure its depth, breadth, and currency. The Bachelor of Arts degree is also available, as well as more specialized degrees emphasizing Biochemistry or Chemical Physics.
Information on all undergraduate degree programs is available in the Chemistry section of the General Catalog.
Current undergraduates:
Please visit SDSU's MyMap site to view the recommended sequence of classes for Chem & Biochem majors.
Some Chemistry and Biochemistry courses will have information posted on our courses page, but also be sure to check for your courses using Blackboard.
Undergraduate majors in chemistry and biochemistry are encouraged to consider participation in the Department's Chemistry Club, and also to participate in available research projects.
Degree Learning Goals and Curriculum Maps
Other Documents
Chemistry B.S. Curriculum Map. This file is a curricular map of the degree learning outcomes for our B.S. degree in chemistry. Please note that this is a work in progress as we continue to accurately evaluate our courses and their relationships to our DLOs. Curricular maps for our other degrees will be forthcoming.
Viewers
---