The Department remembers Chemistry Professor Diane K. Smith
.
Our office in GMCS-209 is open Mon-Fri 8:30am-12:00pm and 1:00pm-4:30pm.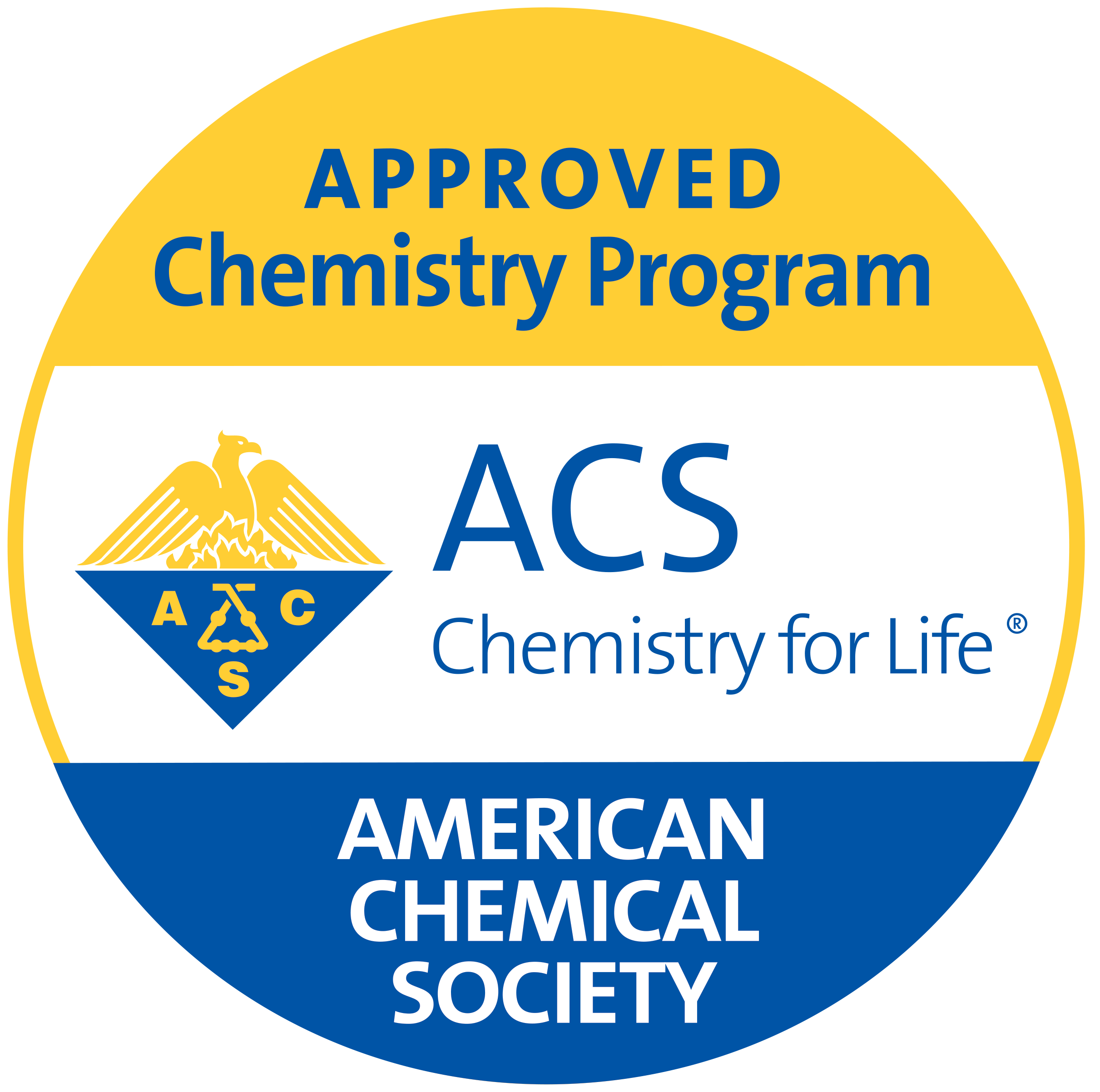 SDSU offers the
ACS-accredited
bachelor's degree.
Upcoming Events
| | |
| --- | --- |
| Dec 02 | Dept. Seminar – Prof. Dhara D. Shah, Arizona State University, Zoom, 4:00 PM |
| Jan 27 | Dept. Seminar – Prof. Scott Lewis, University of South Florida, Zoom, 4:00 PM |
| Feb 10 | Dept. Seminar – Prof. Nicholas Ball, Pomona , GMCS-301, 4:00 PM |
| Apr 07 | Dept. Seminar – Jon Njardarson, University of Arizona , GMCS-301, 4:00 PM |
| Apr 14 | Dept. Seminar – Prof. Maia Popova , University of North Carolina, GMCS-301, 4:00 PM |
| Apr 28 | Dept. Seminar – Prof. Kevin Kou, University of California, Riverside, GMCS-301, 4:00 PM |
Department Contacts
Interim Chair: Andrew Cooksy
Undergraduate Advisor: Peter van der Geer, pvanderg@sdsu.edu
Graduate Advisor: Thomas Cole, tcole@sdsu.edu
Graduate Admissions: Douglas Grotjahn, dbgrotjahn@sdsu.edu
Other Inquiries: cheminfo@sdsu.edu
Faculty and Advisor Office Hours (download Adobe Reader)

Follow us on Facebook
Thank you!
Recent donors to SDSU Chemistry & Biochemistry
Mr. Jay Breaux
Richard L. Jenkins, Ph.D.
BlueDoor LLC
---
Main Office: GMCS 209 • 5500 Campanile Drive • San Diego, CA 92182-1030 (U.S.A.) • Phone: (619) 594-5595 • Fax: (619) 594-4634
Statement on Systemic Racism
The Department of Chemistry and Biochemistry at San Diego State University speaks out with outrage and sadness against the systemic racism plaguing our nation, leading most recently to the deaths of George Floyd, Breonna Taylor, Ahmaud Arbery, Tony McDade and other African Americans. We condemn the many actions of violence and hate inflicted upon African Americans that have not been filmed or publicized. We denounce the systemic racism that manifests routinely in the lives of our students in acts of discrimination, microaggression, stereotype threat, and marginalization, and other harmful and humiliating actions.
We stand in support of our African American students. We stand in support of our Latinx students, our Native American students, any students of color, our LGBTQ+ students, our differently-abled students, our veterans, our first-generation students, and for all groups marginalized in our society.
The Department of Chemistry and Biochemistry will show our support in our actions. We commit to providing space to amplify their voices, and to being active allies. We commit to making our places of learning inclusive, safe, and fertile for fostering their success. We commit to standing up against discrimination in our classrooms, in our labs, and at San Diego State at large. We know that by supporting and empowering our diverse student body, we enrich our academic excellence, innovation, and success. #BlackLivesMatter