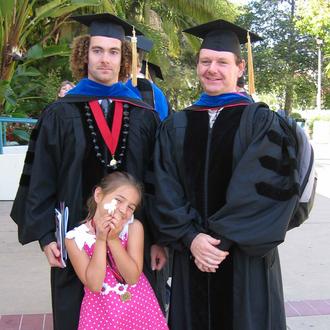 The Department of Chemistry and Biochemistry at SDSU offers the following degrees:
Graduate Programs of Study
Overview
SDSU provides excellent opportunities for graduate work in chemistry at the M.A., M.S., and Ph.D. degree levels. All major areas of chemistry are represented: analytical, inorganic, physical, and organic chemistry as well as biochemistry. Whether you are a student who has definite degree objectives or a student who is not entirely sure about your degree objectives, we offer a program that may be right for you!
The chemistry graduate program at SDSU is large enough to offer a variety of course and research options, yet small enough that you will not get lost in the crowd. Each of our graduate students is important to us and we strive to give each student the personal attention needed to make sure his or her graduate career at SDSU is both successful and rewarding.
UCSD-SDSU Joint Doctoral Program
The Ph.D. degree is offered jointly with the University of California at San Diego (UCSD) Department of Chemistry and Biochemistry through the Joint Doctoral Program (JDP). Students in the JDP are admitted into the graduate programs of both institutions, and spend one year in full-time residence at UCSD, in which they take courses and serve as teaching assistants for one quarter. The remainder of the coursework and research for the Ph.D. degree are carried out under the direction of a faculty member at SDSU. Students in the JDP are required to pass a qualifying examination in order to advance to candidacy for the degree. Candidates for the Ph.D. degree then complete a dissertation based on their research, which must be successfully defended to a joint committee consisting of faculty members from both UCSD and SDSU. Please also see UCSD's description of this program. There are two ways to enter the JDP program, one directly, and the other by way of one year in the masters program; details appear below.
SDSU M.S. Degree Program
We offer a strong Masters of Science program with both coursework and research requirements. The M.S. degree at SDSU is a respected degree, not merely a "consolation prize" for those students who don't succeed in the Ph.D. program. Graduates from our M.S. degree program have been very successful in obtaining jobs, particularly in the Southern California area. Requirements for the M.S. degree include the completion of 30 units of graduate credit and the successful oral defense of a research thesis. This program is ideal for students who want essential research experience but do not wish to advance or wish to postpone advancement toward the Ph.D. degree.
SDSU M.A. Degree Program
Students in this program are required to complete 30 units of graduate credit, at least 24 of which are in chemistry. The student is free to take any course listed as acceptable in the Graduate Bulletin; however, the student must take courses in areas in which he or she is deficient (as demonstrated by the orientation exams). The final requirement is to write a paper approved by the departmental graduate advisor or take a written comprehensive exam. This program is ideal for students who do not feel that they need research experience. Many people employed in local industries choose this route. To accommodate these people, we try to offer graduate courses in the evening whenever possible.
All graduate students are admitted into our M.S. and M.A. graduate programs with unclassified status. Although the requirements for advancement to classified status can vary, all students are required to show competency in four of the five general areas of chemistry either by passing orientation exams or by taking courses in the appropriate areas of chemistry. The orientation exams are given 1–2 weeks before classes begin in both the Fall and Spring semesters.
Application to the Graduate Program
NOTE: Scores for the GRE are not required
Cal State Apply for SDSU Chemistry Graduate Program is now closed (2/1/23). However, you can still apply for entrance Fall 2023.
You must first submit the Interfolio portion of your application.
Note, this part of the application is free.
Go to the Interfolio link for SDSU Chemistry to submit your information. You can edit your information up until you press the Submit button. However, your letters of recommendation can arrive after your submission. Note, we will need to have at least two (three strongly preferred) of your writer's letters for the evaluation one of which is a work or research supervisor.
Interfolio is used to collect specific materials for the evaluation of your application, Letter of Recommendations (3), Personal Statement, copies of your unofficial transcript and complete the questionnaire.
Follow the guidelines for writing your Personal Statement (material below). Our review process wants to better know you.
Send your reference writers the guidelines to their writing of your letter. One version is for your research advisor and the other is general. Choose your reference writers that have something important to say about you.
This questionnaire includes Contact Information, your areas of chemistry interests and faculty, Financial Support, English Proficiency and Application Process Checklist.
Do I need to tell you, this part of the application is free!
Email the appropriate SDSU Graduate Advisor, PhD (JDP) degree (bpurse@sdsu.ed) MS/MA degrees (tcole@sdsu.edu) after you submit your Interfolio packet, informing us that you completed your Interfolio material.
We will review your preliminary application and get back to you within a week but, we will need at least two of your letters before we can proceed. You can also talk via Zoom during Graduate Advisor Office hours (Friday 11:00—11:45 AM or by appointment). Cal State Apply will then be opened on a case-by-case application based on materials supplied via Interfolio.
Guidance for statement of purpose and letters of recommendation
A. Statement of Purpose for Application to Chemistry / Biochemistry Graduate Program (1 to 1 ½ pages)
Describe your education up to the present. How has your education helped you meet your long-term goals and what are your next steps to achieve your goals? An important aspect of reaching significant goals is motivation; please give concrete examples that illustrate your motivation. Include adverse events that have had a negative impact on your life, and what lessons you learned.
Describe your research experiences. Briefly summarize each research project and the duration and on average how many hours a week you spent. Who was your research advisor for each research experience? Describe both overall goals and your contribution to these project(s). How many others worked on each project and what percentage was your effort? Summarize which techniques and instrumentation you mastered and to which one were you introduced to. Did your research experience result in a presentation, poster or publication? If so, describe where and if possible give a citation.
Why did you choose to apply to SDSU? What research groups best match your long-term goals? With which faculty have you talked or communicated already?
B. Letters of recommendation (LOR)
Please give this text to whomever is writing your letters! There are usually two types of letter, one written by your research advisor and the other more general one written by a professor in a class, or a work supervisor.
General LOR: Describe your relationship with the applicant and how long you have known them. Is this person a self-starter that is highly motivated with a commitment to complete tasks or do they require more supervision? Describe the student's leadership ability. Are they willing to follow instructions and take constructive criticism? Are you aware of any adversity the applicant faced and did they demonstrate an ability to overcome the adversity? How would you endorse this person for our graduate program in Chemistry and Biochemistry?
Research Advisor LOR: In addition to the general LOR advice above, please include the following at the top of the letter: Describe the student's research in both the laboratory and with respect to communication, verbal and written. Did their work lead to posters, presentation and/or papers? (please cite all details) What was the applicant's contribution to their project, both in qualitative terms but also expressed by the duration and on average how many hours a week they spent in lab.
Financial Assistance
Financial support for qualified graduate students may be provided in the form of research and teaching assistantships. Typically, most candidates admitted to the program are supported on teaching assistantships, and may be supported on research or teaching assistantships for subsequent years. Research assistantships are arranged between the student and their faculty research advisor, whereas teaching assistantships are administered through the department.
Please be aware that the printed Graduate Bulletin is the official publication for San Diego State University regarding graduate requirements and procedures.
If you have any questions concerning our graduate programs, please do not hesitate to contact us by email (cheminfo@sdsu.edu) or phone (619-594-5595).
---